Natl, GRC
Katsation's
Bittersweet
of Karabel, DM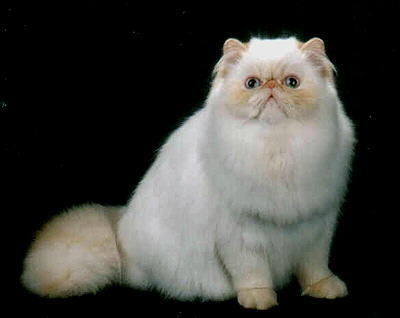 Bittersweet finaled many times as Best Kitten in Show 1993
He finaled many times as Best Cat in Show Winter 93-94
He was highest scoring Cat in Show many times
International Second Highest Scoring Cat in show, 93-94
International Best Longhair in Show, 93-94
National Win Best Himalayan 94 Show Season
He has graced the cover of Cat Tracks Magazine
As of the International Cat Show in Atlanta
Bittersweet is a DM !! Thank You Christine Arnold !!
For your dedication in Showing and Granding
15 of Bittersweet's Best Offspring !


The following excerpt is reprinted, with permission,
from the
June 1994 Cat Fanciers' Almanac.
"CFA's Sixth Best Cat is GRC, NW Katsation Bittersweet of Karabel, an absolutely breathtaking flame point male, Bittersweet was bred by Sue Dahlstrom and is owned by Christine Arnold of Ancaster, Ontario, Canada."

"Bittersweet was shown from July through March and received many high honors including Second Best of the Best at the international Show, Judges from coast to coast admired this beautiful flame point boy and often commented that Bittersweet was the finest Himalayan-Persian if not the finest Persian of any division-that they had ever handled. Bittersweet has been described as "seductive" with his wide open sweet expression and remarkable head structure. Add to this picture a beautifully balanced body, a glistening coat of pearlescent white offset with flaming point color, and big, beautiful blue eyes and you begin to appreciate the truly extraordinary cat that Christine had the pleasure of showing."



Natl GRC Katsation's Bittersweet of Karabel, DM
A Flame Point Himalayan Male

Bred by Katsation Cats

Was Owned and Shown By :
Christine Arnold of Karabel Cattery

Now owned by di Nino ed Eugenia Di Molfetta
of Plumbago Cattery Tel +39 40 361841
Located In Italy
Sire: CH Sunval's Keepsake of Katsation
Dam: Katsation's Karenlee
Would you like to see Bittersweet grow up?
Here are some of Bittersweet's offspring:
Karabel's Karoline of Katsation
GC Karabel's Sneak Preview of Le Chat Paws
GRC Karabel's Venus In Blue Jeans

Sue Dahlstrom
E-mail: sue @ katsation.com
Phone: 1-708-756-2074
Congratulations Aljona
[ Home ] [ Adult Cats ] [ Kittens ] [ Kittening Tips ]
[ GR. CH. Mistekatz Sunshine Superman ]
[ Katsation Himalayans New Photos August 9, 2015 - Free toys, food
samples and "kitty go home" blanket with the purchase of a Kitten! ]
[ Kitten Tips ] [ Letters Of Recomendation ]
[ Silly Kitty Stories ] [ "K" Names ]
[ Contact Sue ] [ View Guestbook ]

The Pet Rescue.com ~ The Humane Society.org


[ The Catteries & Kennels ]
include("../includes/petfooter.html") ?> include("../includes/kidsfooter.html") ?> include("../includes/homefooter.html") ?>
For product prices, availability and/or order
information, please click on the photo or text
link for that product.
Thank You!
Please see Our Contact Information Page,
to find out how to contact each of the catteries
associated with Katsation.com.
Thank You!
Other Questions? Comments?
Judith Berman
Phone: 1-706-783-4722
Comer, Ga. 30629
Katsation Himalayans New Photos - Free toys, food
samples and "kitty go home" blanket with the purchase of a Kitten!


Katsation's Main Index
Any and All suggestions welcome.
Copyright © 1997-2020 All Rights Reserved.
Privacy Policy
Day or Night Design Tyme