Veterinarians Say It's Time For A Senior Pet Shape-Up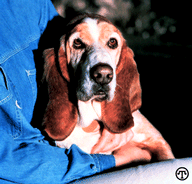 (NAPSI)-There are an estimated 18 million senior dogs in the United States today, and although many owners understand that their dogs are no longer puppies, many don't realize how fast their dogs are aging and the changes in diet and lifestyle that their senior dogs need. That's why The Iams Company and Pfizer Animal Health have teamed up to create an initiative called Senior CareŠ.
Veterinarians across the country are taking part in the initiative designed to encourage owners of dogs that are 7 years and older to visit their veterinarian for a Senior CareŠ health check. The campaign is dedicated to helping owners understand the changing needs of their aging pets, and the wisdom of getting health checks at least twice a year.
"On average, owners of puppies take their new pet to the veterinarian four to five times in the first year," says Dr. Dan Carey, a veterinarian with The Iams Company. "Owners also feed puppies food specially formulated for growth and development. This is not just because people lavish love and attention on a new pet. Owners have been well-educated about the special nutritional needs and health care that their puppies need. Senior CareŠ is an initiative to educate owners that their old and trusting canine companions have unique nutritional and senior dog medical needs too."
In a recent practitioner study conducted by the Veterinary Medicine Publishing Group, almost all veterinarians (98 percent) agreed that older dogs have different medical and nutritional needs and could benefit from specialized care, health testing and dietary planning. A further 91 percent pointed to the fact that diseases associated with aging could be more easily identified if owners brought their dogs in for checkups more than once a year.
"By paying attention to their dog's health, noting small changes in appearance and behavior, and reporting those to the veterinarian at regular checkups, owners can go a long way to improving the quality of their senior dog's life," says veterinarian Dr. Steve Fox, from Pfizer Animal Health. "Although signs like bad breath, a reluctance to exercise, or disorientation can seem very minor, they could signal common age-related diseases such as dental disease, arthritis or canine Cognitive Dysfunction Syndrome. All of these diseases could be debilitating if left untreated, and all are manageable if diagnosed early and treated with appropriate new medications available from veterinarians. A trip to the veterinarian is encouraged and could maintain the quality of a senior dog's life."
As well as a general examination to check for stiffness, heart murmurs, bad breath, behavior changes, skin lesions and other typical signs of common aging diseases, a Senior Care checkup should include a consultation with a veterinarian about the special dietary needs of senior dogs and any lifestyle changes that may be needed, such as an increase in exercise or creating a more stable, routine environment for an older pet.
"Your veterinarian may also recommend basic blood and urine tests as a baseline for measuring future changes. Regular blood testing can help identify diseases in their earliest and most treatable stages," adds Fox.
Day-to-day considerations, like proper nutrition and regular exercise, are very important in maintaining a healthy lifestyle for senior dogs. "Feeding your senior dog a food that has been specially formulated to meet the unique dietary needs of senior dogs is very important," says Dr. Carey.
Dogs, like humans, tend to gain weight as they reach middle age. Obesity increases the risk of serious diseases and health problems such as diabetes, arthritis, and heart and lung disorders. Weight-loss steps include limiting the number of calories consumed; feeding several small meals daily rather than one large meal; modifying behavior to prevent regaining lost weight; choosing a senior dog food that provides the proper balance of protein, fat, calories, antioxidants, vitamins and minerals for aging dogs; and increasing exercise.
"Starting an exercise program is key to a senior dog's health and fitness," says Dr. Carey. "Exercise maintains muscle tone, enhances circulation, promotes digestion and helps maintain proper weight. But it's important to begin slowly; walking 10 minutes per day is a good start. After a week this can be increased to 15 minutes and then, depending on your dog's condition, this can be increased again up to 30 minutes a day."
About Pfizer Animal Health and The Iams Company
Pfizer Animal Health is a world leader in animal health, committed to providing high-quality, research-based health products for companion animals and livestock. Its products include pharmaceuticals, biologicals and feed additives. Pfizer Animal Health is a business group of Pfizer Inc., a research-based health care company with global operations. In 1998, the Company reported revenues of over $13.5 billion and invested more than $2.2 billion in research and development.
The Iams Company, manufacturer of Eukanuba and Iams Dog and Cat Foods, distributes premium pet foods (dry and canned) to more than 70 countries. The Company's research team, based at the Paul F. Iams Technical Center, conducts innovative research to enhance the well-being of dogs and cats.
Iams Cat Food
Made with high-quality ingredients, this dry food is highly digestible, causing minimal litter box waste and odor. It also helps maintain urinary tract health.