Recycling For Rex & Kitty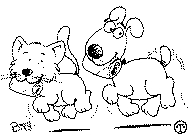 (NAPSI)-No matter how you stack 'em, 200 million aluminum cans really add up. That's how many have been recycled through Paws to Recycle, a program that benefits animal shelters and non-profit animal organizations.
Now in its sixth year, the program is sponsored by the American Humane Association, Friskies PetCare Company and Alcoa. Shelters hold can drives to raise money for operating costs and to compete for cash prizes that go toward operating budgets.
Craig Covert, manager of marketing communications for Alcoa's Rigid Packaging Division, emphasized that Paws to Recycle is a win-win program, working to benefit both animal shelters and the environment.
"While raising funds for shelters," he said, "Paws raises awareness of the importance and ease of recycling. The program makes it easy for everyone to save aluminum cans and put them to good use by participating shelters."
Shelters can register for the 1999 Paws to Recycle campaign by calling the registration hotline at 1-800-646-7297 (PAWS).