Prevention Is Key In Keeping Pets Parasite-Free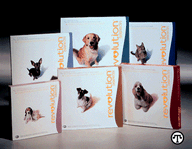 (NAPSI)-Experts say 1999 may go down as one of the worst on record for parasites-heartworm, fleas, ticks and other pests that pose a threat to the country's most popular pets-cats and dogs.
"Because many areas of the country experienced greater than average rainfall amounts and warmer than average temperatures, we have seen an increase in the prevalence of these parasites in animals that are not appropriately treated," said Byron Blagburn, Ph.D., alumni professor of parasitology at Auburn University College of Veterinary Medicine.
In many areas of the country, fleas, heartworm, ticks and other parasites are prevalent throughout the year. Most veterinarians recommend preventive treatments to ensure that pets are protected.
"Heartworm disease can be deadly to both cats and dogs," said Lynn Buzhardt, D.V.M., of the Animal Center in Zachary, La. "There is no approved treatment for heartworm disease in cats, and treating heartworm disease in dogs can be lengthy and expensive, so prevention really is key."
Buzhardt recommends preventing heartworm in cats and dogs with monthly doses of a product such as Revolution™ (selamectin) from Pfizer Animal Health.
Revolution prevents heartworm, kills adult fleas and prevents their eggs from hatching and treats and controls ear mites in cats and dogs. Revolution also treats hookworm and roundworm in cats. Revolution treats and controls sarcoptic mange (scabies) and controls American dog tick infestations in dogs.
"The American dog tick is found on a greater variety of animals in more areas of the country than other species," Blagburn said. "Because it can survive winter months better than certain other species, it is one of the most difficult to control."
"Revolution was created to protect pets inside and out. It's the first and only FDA-approved monthly topical medication that protects against several harmful parasites. Prescribed by a veterinarian, Revolution applied once a month is the simple way to protect dogs and cats as young as six weeks of age, without pesticides," Buzhardt said.
"Your veterinarian is an expert on treating pets for parasites," Buzhardt said. "Your pet's doctor will recommend the best methods of treatment based on your regional weather conditions, your pet's general health and the overall potential for parasite infestation.