Pet Concerns Answered On Information Line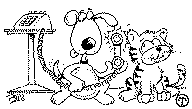 (NAPSI)-There are many doggone helpful ways to get answers to pet care problems and concerns.
One way is talk with a veterinarian. Another way is to ask such pet experts as those at the American Society for the Prevention of Cruelty to Animals (ASPCA) for help.
The organization features a toll-free information line, called the ASPCA's Ani-Med service, which offers pet owners recorded information about pet health, nutrition and behavior.
"We started the Ani-Med service a little over a year ago to provide pet owners with a convenient and expert source of information about behavioral and health issues for dogs and cats," says ASPCA President Dr. Larry Hawk.
The service line is starting to see more concern about such pet issues as nutrition and arthritis.
"We also see interest in topics that address the animal's role in the family, such as traveling with a pet and coping with the loss of a pet," Dr. Hawk said.
According to the ASPCA, about 60 million cats and 55 million dogs living in U.S. households often form a special bond with their owners. The organization says that's why it's no surprise that people would seek out information to help care for and understand pets.
The Ani-Med service was developed by TeleCare Inc., a Long Island, New York-based company, for the ASPCA and is principally sponsored by Friskies PetCare Company, Inc. Service users have the option of leaving a name and address to receive $5 in discount coupons for Friskies and other pet-related products.
The service offers advice on about 125 topics related to health, behavior, training and responsible pet ownership issues.
Here are highlights of calls to the service for 12 months ending February 1999:
6,450 calls about responsible pet ownership, 16 percent of all information requests.
7,050 calls about cat health problems, 18 percent of all information requests.
6,550 calls about dog health problems, 17 percent of all information requests.
Calling the service is free and requires the menu of topics, available through the ASPCA's web site at www.aspca.org, and nearly 1,000 participating animal shelters.