Pet Toys: Make Sure They're Safe As Well As Fun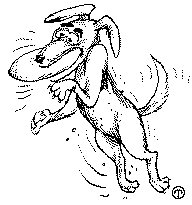 (NAPSI)-There are some doggone good toys available now to entertain your pets safely and give them exercise.
Fetching and catching flying toys can keep your dog on the run, but make sure the toys are safe. Consider these tips from pet experts:
Make sure the material the toy is made from isn't too hard and doesn't have rough edges. If you don't, you take the chance of cutting your pets mouth and gums or chipping teeth when it catches the toy.

Toys that are too small can be just as dangerous as ones that are too big. If they are too small, your pet may swallow or choke on them.

A safe toy is a non-toxic toy. Remember, your pet is catching this in its mouth.
One of the newest products to focus on the safety aspect of flying toys for dogs is the Aerobie Dogobie flying disc. The Dogobie is made by the same people who make the popular Aerobie flying rings and discs for humans and are known for their high performance flyers. Dogobies come in blue or yellow, colors easily seen by dogs (all other colors are seen as shades of gray). The discs are flexible and soft yet very durable.
Ray Masel, former U.S. Frisbee Dog Champion, and his star Skyy Dog were impressed. "These Dogobies fly great and they stand up to the nearly constant play of Skyy and his pals."
Good Dog!, a consumer magazine for dog owners, also recommended the disc. "The Dogobie is a terrific disc. I highly recommend it to anyone who has a dog that loves to chase and catch."
So, the next time you're in your local pet or sporting goods store, look for catch and fetch toys that are both fun and safe for your pet. Show them that you care.