Dog And Cat Care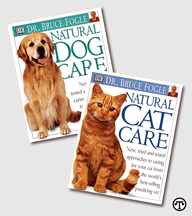 (NAPSI)-There are doggone purrfect ways to learn how to care for a dog or cat.
One way is to look to an expert for advice. Dr. Bruce Fogle, DMV, famous for his expertise on animal behavior, recently wrote two books pet owners may want to consider: Natural Dog Care and Natural Cat Care (DK Publishing, $24.95 each).
Each book offers tips on pet development, training, nutrition, health care and health disorders, as well as dozens of color photographs, charts and checklists.
For example, the books talk about what nutrients are best for cats and dogs and when and why the animals become aggressive or want to play.
Life stages such as mating, pregnancy and birth, grooming, play and aging are demystified.
According to the American Veterinary Association, Americans are spending more on veterinary care for dogs, cats and birds than ever before.
Dr. Fogle has appeared on radio and television programs internationally, including "All Things Considered" on National Public Radio. He is currently the resident vet on a BBC radio show and a columnist and feature writer for dozens of newspapers and magazines.
Natural Cat Care and Natural Dog Care are available in most major book stores and pet stores.