There's No Trick To Treating Your Pets To A Happy Halloween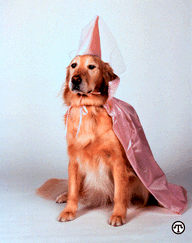 (NAPSI)-Like most holidays, Halloween means indulging in goodies, observing family customs and having fun. And because our pets play important roles in our lives, we want to include them in the festivities. "Trick or treating is nothing new to most dogs and cats," says Dr. Dan Carey, DVM, Director of Technical Communications at The Iams Company. "They do tricks for treats on a regular basis. But when Halloween rolls around, it's up to owners to make this trick or treating holiday fun for their canine and feline companions."
To keep Halloween pet horror stories at bay, Carey suggests the following tips for creating a healthy, safe and happy Halloween for your dogs and cats.
Costume Etiquette
"Keep your pet's disposition in mind on Halloween," Carey says. "Some pets may enjoy being dressed up and taking part in the festivities, but others may not. The trick is knowing your pet-and keeping his safety in mind as you plan your holiday."
Need a costume idea for your pooch or kitty? Consider playing up one of their most endearing qualities. A black dog that stretches like a cat may make a fun Halloween kitty, while a pumpkin-colored golden retriever may light up in a jack-o'-lantern costume.
If you plan to dress up your pets, create a comfortable costume. Avoid costumes that constrict their movement or obstruct their vision.
Also, don't force the dress-up issue. If the costume makes your pet nervous or uncomfortable, skip it.
Top-Notch Treat Ideas
For owners who want to share Halloween goodies with their pets:
Keep your pet's health in mind. Although candy may be a treat for you, your dog or cat would probably prefer a meaty treat.
Have tasty, nutritional treats on hand for your own dogs and cats, as well as visiting pooches and kitties.
Iams® Original Formula Biscuits for Dogs may be the treat that produces the best dog tricks, while a few nibbles of Eukanuba® Cat Foods may keep kitties content.
Keep Halloween candy out of reach. Remember that chocolate can be toxic to pets.
Keep candy wrappers away from pets as well. If pets ingest them, contact your veterinarian.
On the Prowl
Whether your Halloween arrangements include throwing a party, traveling door to door for treats or listening for the doorbell, make plans to keep your pet happy:
To keep pets from slipping outside while you greet your visitors, keep dogs and cats away from the door during trick-or-treating.
Keep an eye on outdoor pets to be sure the extra commotion in the neighborhood isn't bothering them.
Keep shy or nervous dogs and cats away from your Halloween party, and away from trick-or-treaters at the door.
About The Iams Company
For more than 50 years, The Iams Company has enhanced the health and well-being of dogs and cats by providing world-class quality foods. For more information on proper pet care and nutrition, call the Iams Pet Professionals toll free at 1-800-863-4267, Monday through Saturday, 8 a.m. to 8 p.m. Eastern Standard Time. You can also visit Iams on the Web at www.iams.com.