Statistics Show Pet Owners May
Need To Put Their Pets On A Diet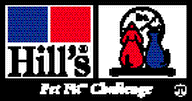 (NAPSI)-Many people are concerned about their weight. But what about their pets? According to recent research by Hill's Pet Nutrition, Inc., a staggering one in two pets in the United States is overweight or obese, making obesity one of the most common diseases afflicting dogs and cats today. The good news is, it is also the most treatable.
To raise awareness of the problem, Hill's, the maker of Science Diet® and Prescription Diet® brand pet foods, has teamed up with local veterinarians to develop an easy-to-follow weight management program designed to help pets lose dangerous excess weight, help regain their health and extend their lives-the Hill's® Pet FitĒ Challenge.
"It is surprisingly easy for dogs and cats to become overweight, and it can be difficult for owners to recognize it particularly if the gain is gradual," said Dr. Blake Hawley, senior marketing manager and veterinarian at Hill's. "Many owners don't realize the impact a few extra pounds has on a 10-pound cat or dog. One or two pounds doesn't sound like much, but it's the equivalent of a person gaining more than 25 pounds." Hawley continued, "Excess weight also can reduce the length of a pet's life by as much as 20 percent. This is comparable to nearly 15 years for humans."
Keeping a pet healthy and physically fit requires both the right food and regular exercise. As with people, obesity in dogs and cats can lead to serious health risks like diabetes, heart disease and back and joint problems. It also can increase the risk of certain cancers and early death.
The Pet FitĒ Challenge runs from September, 1999 to March 1, 2000. To enter, pet owners can pick up an entry form at their local veterinary clinic and work with their veterinarian to set a target weight and develop a specific exercise program for their pet.
Pets will be judged on weight loss and overall improved health and energy. Sixteen national finalists (eight dogs and eight cats) will be selected to compete in the National Finals in New York City in May, 2000. At the National Finals, one dog and one cat will be selected as the national grand prize winners. The national winners will receive a one-year supply of Hill's pet food and a five-day trip for two with pet in tow to the luxurious San Ysidro Resort in Santa Barbara, Calif. Entries must be post-marked by March 1, 2000.
"Hill's Prescription Diet® r/d® and w/d® therapeutic diets are effective nutritional solutions to aid your pet's weight loss," said Dr. Harold Buthker, veterinarian for the 1998 Canine Pet FitĒ winner, Alexandra. "Hill's has truly revolutionized weight management in dogs and cats with the inclusion of carnitine, a nutrient, to both products. These products help pets lose weight safely while maintaining energy."
Any time is a good time to put your pet on a weight management program. Talk to your veterinarian and visit the Pet FitĒ Web site at www.petfit.com for contest details and tips for slimming down your portly pet.