Showing 'Can-do' Support For Animal Shelters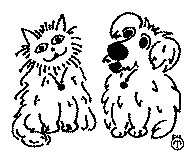 (NAPSI)-When it comes to taking care of homeless dogs and cats, a growing number of communities and animal shelters are showing a lot of "can do."
Over the past five years, the Paws to Recycle program-the only nationwide aluminum can recycling program which benefits animal shelters and non-profit animal groups-has recycled more than 200 million cans, earning an estimated $1.8 million for shelter operating costs. In 1998, 141 shelters participated in the program and recycled nearly 1.5 million pounds of cans.
In celebration of the fifth anniversary of the program, Friskies PetCare Company, Alcoa and the American Humane Association presented a Teen Champion Award to recognize the outstanding efforts of young people who volunteer their time at animal shelters. "The winner was Ashlee Drozd of Bridgewater, NJ. Drozd coordinated the local Paws to Recycle campaign, collecting 585 pounds of aluminum cans for the Somerset Regional Animal Shelter," said Carey Wiggins, AHA marketing manager. "For her efforts, Drozd and the shelter each received $250."
As part of the program, shelters hold can drives from September through November to raise money for operating costs and to compete for one of four $3,000 grand prizes for most pounds of aluminum cans recycled (non-profit and municipal shelter categories), most community involvement and best publicity campaign. In addition, five "Wild Card" winners receive $500. Just for participating in the program, shelters earn coupons for free pet food from Friskies, the nation's largest user of aluminum pet food cans.
"It seems that each year shelters are working harder to make their recycling drives more successful," said Barbara Royer, Friskies' manager of professional communications. "Shelters tell us how grateful they are to their communities for donating cans even during times of hardship, like hurricanes and floods. Communities of all sizes come together to support their local shelters."
Shelters can register for the 1999 Paws to Recycle campaign by calling the registration hotline at 1-800-646-7297 (PAWS).